Freight Forwarding | Logistics Companies | German Forwarding Agencies | Euro-pallet | Shipping
Forwarding agencies in Germany
With Saloodo! - your partner for the
freight forwarding in Germany and Europe
Are you looking for an affordable and reliable forwarding agency in Germany?
Saloodo! mediates as an online freight platform between shippers and forwarders in Germany and across the European continent. Our digital logistics solution offers you an end-to-end solution for the entire shipping process.
Freight forwarders in Germany
Many forwarding agencies – one forwarding directory: The number of forwarding agencies in Germany is increasing from year to year.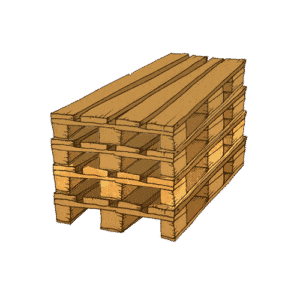 For this reason, choosing the right transport company is a difficult process for consumers in Germany. At Saloodo! you will find all the information you need to transport your goods quickly and safely. We take over the shipping of any large and bulky goods such as furniture, pallets or machines. The forwarding companies in our forwarding directory deliver your goods nationally and internationally to the place of your choice. How does it work? Simply enter your shipment details, wait for an offer and select a partner. Your goods are already on their way to your customer. As simple as that! Register with Saloodo! today to send your goods at a reasonable price!
Transport in Germany and within the EU
With our network of transport partners, Saloodo!'s team of experts delivers all over Germany and acros the European continent.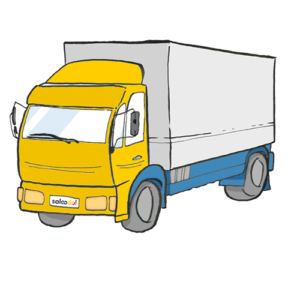 As a service company, we work with 
freight forwarding companies
 who are responsible for the transport of goods to ship your goods.  In this context, transport companies are providers of transport services by ship, aircraft, rail, truck or transport wheel. In the transport and logistics industry, the forwarding sector is divided into a large number of specialist groups with numerous different service areas. Our partners i.e. the freight forwarders organise the truck transports to all European countries. In addition, we offer a transport service within Germany on domestic routes. Here is an overview of some of the advantages you will get when working with Saloodo!:
How big is the Saloodo! fleet?
With experience and competence, Saloodo! represents the ultimate choice for your logistics tasks. Our comprehensive, national network forms the basis of efficient system transports. On our online platform, you will find more than 6,000 partner forwarders and more than 250,000 trucks for the transport of your goods.
Saloodo! has numerous serious business partners. Our largest partners in the field of truck transport are DHL, Emons and LKW Walter. All our other partner forwarders offer you the transport of your goods from and to Germany. Therefore, it is best to register with Saloodo! today in order to send your goods cheaply!
What do forwarding agents send within Germany?
Saloodo! offers you a comprehensive and diversified range of services. Our activities give you the advantages of daily departures, defined delivery times and fixed quality standards. Whether it's a machine weighing tons or fragile parcel contents, we are your contact for your transports in, from and to all German regions, be it a village, small town or metropolis.
With us you are able to ship the following through our partner forwarders:
Machines • Bulky goods • Furniture • Motors • General cargo Pallets • Kitchen appliances
How important are German freight forwarders in Europe?
Germany is known for its good foreign trade balance. As an important transit country, especially for goods traffic, it has highly developed infrastructure and increasing networking. This makes Germany a hub not only for freight forwarders, but also for logistics companies. Saloodo! will be happy to advise you on the entire processing period of your delivery. This way, you benefit from our experience and expertise.
Saloodo! bundles all forwarding agencies in Germany on only one platform. We cooperate exclusively with serious and renowned forwarding agencies. It is not for nothing that Saloodo! sees itself as your competent partner for the fastest, most convenient and reliable transport possible. Therefore, it is best to register with Saloodo! today in order to send your goods cheaply!
How does Saloodo! help?
Regardless of the carrier of your choice, in the end Saloodo! is your contractual partner. This has exclusive advantages for you as a shipper as well as for transport companies.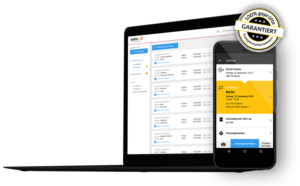 If something should go wrong, we are at your disposal with a service centre for our customers. This reduces the risk for both the shipper and the carrier. Simply request, book and track online. Saloodo! allows you to do all this with a click of the mouse in seconds. Our well-coordinated system guarantees efficient, smooth processes for all our international transports and domestic German transports.
German forwarding agents for the entire shipping process
With Saloodo! you have all the freedom of an online marketplace. We simplify your processes by providing an intuitive and user-friendly interface for payment, documentation and tracking.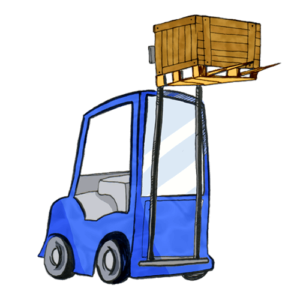 We enable you to process your forwarding orders on a single platform. With Saloodo! as your contractual partner, both shippers and forwarders benefit from comprehensive and unconditional quality and safety. Register with Saloodo! today and start shipping your goods at an affordable cost!
Your digital logistics experts
We combine the logistics know-how and infrastructure of a global player with the flexibility and digital competence of a start-up. Learn more in our blog, the Logistics dictionary, and our info pages.
Ready for the logistics of the future?