Find Logistics Service Providers | Logistics Company | Logistics Center | Logistics Service Provider Germany | Transport
Find logistics service providers
Saloodo! - your partner for safe, inexpensive
and reliable logistics service providers
Are you looking for an experienced and reliable logistics service provider for your transport?
As a logistics platform, Saloodo! offers an efficient and high-quality logistics solution for both shippers and transporters.
Saloodo! is your affordable and reliable digital logistics solution for finding a logistics service provider.
What makes logistics service providers stand out?
The diversity of logistics services makes it stand out from other industry. In cooperation with Saloodo!, you as a shipper, benefit from a variety of services.
You concentrate on your core business while we ensure that your quality standards are met safely, efficiently and reliably. In this way, you benefit from an increase in your liquidity, a reduction in your fixed logistics costs, and an increase in your flexibility.
With direct access to Saloodo!'s extensively trained personnel, you can secure your logistics processes. In addition, you secure your production targets for a noticeably higher overall performance. Register with Saloodo! today and start shipping your goods at an affordable cost!
How do you find logistics service providers?
The companies in search of an intelligent logistics providers on our platform have a flexible, experienced and reliable partner.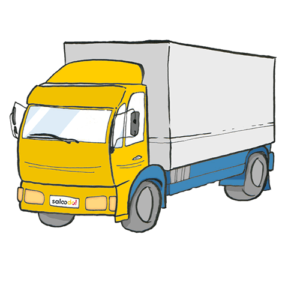 Our logistics platform covers the entire range of logistics and logistics-related services. We offer you, as a shipper, the perfect all-round service with your very individual service package. Our services are aimed at companies in all sectors because a VAT ID is required to register.

In action goods logistics
Saloodo! takes over the handling of your logistics processes for you. As a flexible, sovereign and reliable logistics service provider, we guarantee the rapid and timely execution of your logistics actions in a few days.
In transport logistics
The modern and environmentally friendly vehicle fleet of our forwarding partners, in combination with trained personnel, ensure the reliable and timely transport of your goods.
In contract logistics
Saloodo! creates personal and individually tailored logistics concepts for your company. Implemented with energy, expertise and passion, Saloodo! is a promising and reliable partner at your side. From flexible logistics modules we combine your logistics process along the supply chain.
In warehouse logistics
Saloodo! offers you safe and efficient logistics for your warehouse. The large logistics areas of our forwarding partners offer the perfect storage space for any kind of goods.
In the field of e-commerce fulfilment
From logistical services to a holistic e-commerce concept, Saloodo! is your partner for serious and professional fulfilment.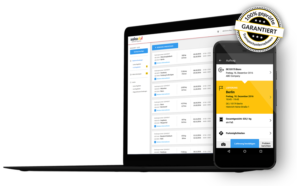 Through value added services
In addition to the best logistics solutions, we offer you individually tailored information and patent remedies for the packaging and further processing of all goods.
Saloodo!, a subsidiary of Deutsche Post DHL Group, uses digital technologies to simplify your freight forwarding business in a simple, convenient and uncomplicated way. The platform offers an end-to-end solution for the entire logistics process. With Saloodo! you have all the advantages, freedom and possibilities of an online marketplace to organise your logistics.
Logistics platform: Quality and freedom without restrictions
Saloodo! simplifies your logistics process by providing a user-friendly interface for payment, documentation and tracking.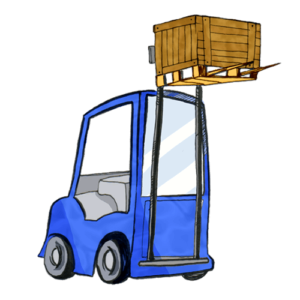 In this way, we enable you to handle all your logistics on a single logistics platform. With Saloodo! as your contractual partner, both shippers and transporters benefit from quality and freedom without restrictions.
As your nationwide and Europe-wide logistics company, we are your sovereign and reliable partner for your success in the implementation of logistics services of all kinds. Our diverse value-added services ensure the sustainable and reliable optimisation of your logistics processes within the scope of your goods transport.
Any further questions? Find logistics service providers throughout Europe now!
Your digital logistics experts
We combine the logistics know-how and infrastructure of a global player with the flexibility and digital competence of a start-up. Learn more in our blog, the Logistics dictionary, and our info pages.
Ready for the logistics of the future?