Ship ADR | Transport Dangerous goods | Packing & Labeling | DHL | Send Pallet
Ship dangerous goods (ADR)
Everything you need to know about
shipping dangerous goods / ADR items
Do you want to ship dangerous goods?
When dangerous items are shipped, a number of requirements and regulations must be observed. On this page you will find all the information you need to transport your dangerous goods safely.
Ship dangerous goods with Saloodo!
Saloodo! provides its customers with the highest level of quality service. With us, you can transport any pallets only within a few clicks on our digital platform. Moreover, you can register for free, get immediate access to a growing network of verified carriers and choose from multiple offers depending on your preferences.
Saloodo! helps you to keep track of your shipment at any time. You will receive benefits through our live chat service and get in contact with our dedicated customer support team. By using our quality service, you will be able to transport pallets conveniently throughout Europe as your contract partner and single point of contact.
What does ADR stand for?
ADR stands for Accord Dangereux Routier. Its full meaning in French is "Accord européen relatif au transport international des marchandises dangereuses par route". In English, it means "European Agreement concerning the International Carriage of Dangerous Goods by Road". The international term ADR is so widely used in the transport industry that almost everyone in every country understands it.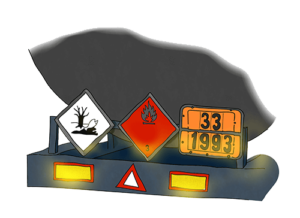 The history of ADR
The agreement was adopted in Geneva in 1957, but did not enter into force until the end of January 1968. It is adapted every two years to the latest technical and legal findings. Today all EU states are members and the ADR agreement is legally valid by an EU regulation. In addition, all other European states have now acceded to the ADR rules, as well as Morocco, Tunisia and some Central Asian states that used to belong to the Soviet Union. The ADR agreement currently has a total of 48 member states (as of 6/2017).
What are ADR regulations?
Every truck driver who transports dangerous items needs to acquire an "ADR training certificate". The ADR certificate is valid for five years and then expires automatically if it is not extended before the end of its term. The driver must take a refresher course to do this.
Every company that regularly transports dangerous goods needs at least one dangerous goods officer. The officer is responsible for ensuring that the regulations and requirements relating to hazardous goods are complied with. Every truck carrying this type of goods needs special equipment. This includes the orange warning signs that can be opened and closed, helmet and safety goggles as well as two fire extinguishers.
How are dangerous goods classified?
Dangerous goods are classified according to the nature of their hazard. There are nine classes of hazardous goods with some divisions that distinguish their classification. They are categorized as it follows: explosives, gases, flammable liquid, flammable solids, oxidizing substances, toxic substances, radioactive material, corrosive substances as well as other miscellaneous hazardous goods.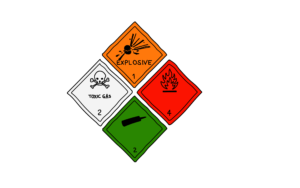 Depending on their nature, dangerous goods can be anything from liquids, gases and/or solids. There is also a probability that some items are not "dangerous" by themselves but can contain components that are hazardous. This is because they can be composed of a mixture of substances or pure chemicals.
Ship goods safely and reliably to your destination of choice. With Saloodo! you can:
When is an item considered as dangerous?
There are goods that can be considered dangerous even if on the first sight they do not come across as hazardous materials. For instance, products that appear harmless like air fresheners, nail polish, brush cleaners, photographic film or table tennis balls are listed as hazardous materials. For these type of items, the same rule applies as for any other apparent hazard such as explosives, flammable liquids or gases.
This is because some of the listed goods may include the emission of flammable and/or toxic fumes, can be corrosive to metals and/or other materials. may be explosive in nature under certain circumstances or when exposed to heat. Some can cause environmental damage, while others can react dangerously in combination with other substances.
The best way to know if the items you want to ship can be under any of the categories mentioned is to check their nature, components, additives, class and/or labels. You also need to investigate your destination, as there could be different restrictions depending on the country you plan on shipping to.
What are the existing dangerous goods regulations?
Regardless if you are a shipper planning to ship dangerous goods or a carrier transporting hazardous materials, it is important to be aware and understand the nature of goods you are handling and what are the risks and regulations surrounding this matter.
The transportation of hazardous goods is a complex and regulated process involved in all transport stages with widely applied regulatory schemes for all modes of transportation. The basis for most regional, national and international regulatory schemes has been published by the United Nations Economic and Social Council under the UN Recommendations on the Transport of Dangerous Goods.
For instance, the transportation of dangerous goods by sea is governed and regulated by the International Maritime Organization (IMO) under the International Marimite Dangerous Goods Code (also known as the "IDMG Code") intended for protecting the ship's crew, prevent marine pollution and ensure safe transportation of dangerous goods by sea.
Similarly, the International Civil Aviation Organization has its own regulation for air shipment of hazardous materials that have been developed to accommodate special aspects of moving goods by air. Same applies for rail transport, with the Intergovernmental Organization for International Carriage by Rail that has developed its own regulatory system concerning the International Carriage of Dangerous Goods by Rail (also known as "RID").
Different nations have also constructed their own regulations to align with the UN Model and adhere to specific requirements. The restrictions and regulations by country or even state can also vary greatly.
How to pack and label dangerous goods
After you have correctly identified the goods you want to send, you need to take into consideration your country's regulations and restrictions. Next step is to ensure your goods are packed carefully to avoid damage during the transit of your shipment.
Dangerous goods can be categorized under 3 packing groups depending on the degree of danger they may present. Also known as the UN Packing Group, this type of packaging identification can determine the degree of safety the package requires.
Here are some things you need to ensure if you pack dangerous goods:
• Use high-quality packaging, able to withstand any conditions of transport and weather
• Must ensure there is no dangerous residue outside of the package
• Make sure everything is tightly packed and secured
• The cargo should not move inside the container
• The cargo should not cause any leakages or damage
• The cargo should not be packed in inaccessible areas (should any emergencies occur)
• The cargo should be placed close to the container doors (should any emergencies occur)
• Taking photos during and after packing and lashing will ensure everything is in order (should there be any complaints later)er
How to label dangerous goods
Make sure to do the following if you label dangerous goods:
• Proper placarding and labeling of goods
• Inner and outer packaging should contain the labelsration
• Labeling the shipping container
• Labeling should contain the IMDG code and UN number of the cargo
• Labeling should describe the risk category and level of danger
Documents
Depending on the goods you transport, there are several documents that are required, such as:
• Dangerous Goods Declaration
• Container Packing Certificate
• Dangerous Goods List (Manifest)
How to send ADR goods with Saloodo!


• Describe your shipment
Planning ahead will help you eliminate unforeseen costs. This is why it's important to define your transport requirements at an earlier stage. Details such as pallet dimensions, weight, pick-up & delivery locations, and dates should be known before you post a transport request.
• Choose from 12000+ verified carriers
Saloodo! gives you access to a growing network of carriers verified according to DHL's Code of Conduct. You have the freedom to decide who will transport your shipment based on the offers you receive.
• Track & Trace
After you selected the offer that suits your request, you can start tracking the progress of your shipment. You also have access to live chat support and customer service assistance. This way, you have a full overview of the entire shipping process and you can always follow-up on the transport status.
Your digital logistics experts
We combine the logistics know-how and infrastructure of a global player with the flexibility and digital competence of a start-up. Learn more in our blog, the Logistics dictionary, and our info pages.
Ready for the logistics of the future?