Ship large items | Item as freight | Freight Carrier| DHL | Full truckload
Ship large items with Saloodo!
Ship your large items as freight
Do you want to ship large items?
Saloodo! provides its customers with the highest level of quality service. With us, you can transport items only within a few clicks on our digital platform. Moreover, you can register for free, get immediate access to a growing network of verified carriers and choose from multiple offers depending on your preferences.
Saloodo! helps you to keep track of your shipment at any time. You will receive benefits through our live chat service and get in contact with our dedicated customer support team. By using our quality service, you will be able to transport your item conveniently throughout the Middle East as your contract partner and single point of contact.
Definition large item
While there is no standard classification for "large items" in the logistics industry, what's considered a large item can depend on anything from size, dimensions, how much space the item takes in a truck to even more vague criteria, as for instance if the item needs to be placed on a pallet. In general, shipments considered "large" need to be shipped as freight.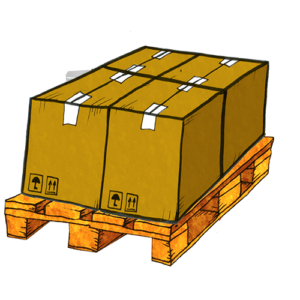 Oversized item
What is an oversized item? Any single item exceeding 500kg  is considered an oversized item and will require some kind of special requirements and industrial equipment.
Parcel or freight? That is the difference!
If your shipment weighs less than 68kg and can be shipped in its own packaging or carrier supplied boxes, then it fits the description of a parcel. These type of shipments are normally not sent on pallets and can be transported with courier services.
However, if the shipment is over 275cm in length and if you want to ship individual packages over 68kg, then shipping your item as freight will be better than a courier service. This is because (in some cases) small parcel shipments can get damaged, lost or delayed.
What is the cost for shipping large items?
There is no fixed price for shipping large items, as the cost can depend on factors such as:
How can I reduce the cost for large shipments?
Be specific
Whether you are a small business or just starting, it is crucial to understand the logistics aspects related to shipping large items. Not providing the exact dimensions of the item or not knowing the contact details of the persons at the pick-up or drop-off locations can result in unwanted surcharges. Best way to avoid additional costs is to provide the correct details of your shipment, which brings us to the next point.
Calculate your item's measurements correctly
Shipping larger items can be tricky when your shipment is not considered "normal-sized". This is because the ratio of size to weight is different and can cause surcharges if you are using the wrong measurements units.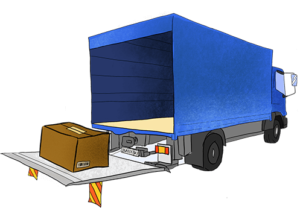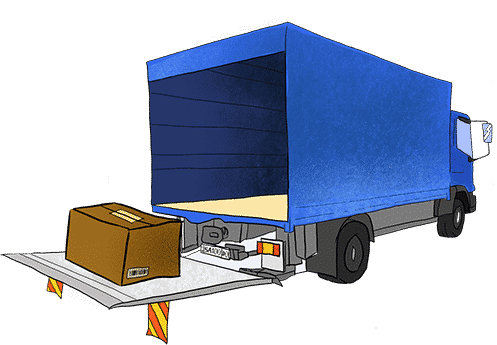 When you plan on shipping large items, you should calculate the measurements of your shipment by using the dimensional weight (also known as DIM or volumetric weight). The DIM weight is normally used for items that are voluminous but don't weigh much. Instead of using the physical weight, the DIM weight takes into account the height, length, and width to assess how much space the shipment will occupy in a truck. The dimensional weight is calculated as (length x width x height) / (dimensional factor).
Secure packaging
You should take into consideration the different stages of transit and the many steps your items have to go through before they reach the final destination. It is not recommended to cut corners with packaging, which can actually make a difference between a happy customer and a damaged product.
How can I secure the content of an item in a box?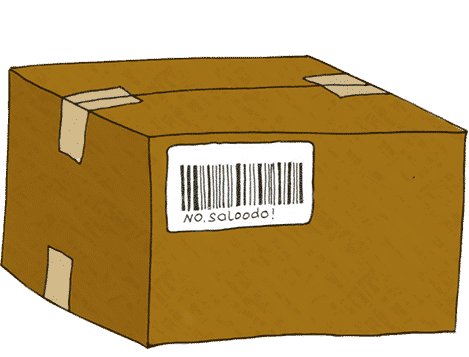 Make sure to pick a box that matches the dimensional weight of your item. This will prevent unnecessary movement of the item during transport. (tip: buy double wall cardboard boxes for fragile or heavier items – this way, you secure the goods better in case of sudden impact)
If you plan on using a former box, make sure to first check if it's still in a good condition (that means no holes, tears, marks or dents). Also, no old labels. (tip: if you want to remove any stickers or labels without damaging the box, use a heat gun at its lowest setting or a similar alternative, as the heating will help you peel them off from the box)
Pad the box with padding paper, bubble wrap or packing peanuts
Wrap and tape the sharp edges of your items individually
Put a copy of the label inside the box and write the recipient details on the inner package flap
Add at least three strips of packing tape across all flaps, seams, top and bottom (tip: use the H taping method)
Secure the label on the largest surface of the package (tip: use a black marker to write the nature of your items. For instance, if they are heavy or fragile, and then draw arrows on the box to point which side is up – this will help ensure the safety of those handling the goods)
Using Saloodo! to ship your items

• Describe your shipment
Planning ahead will help you eliminate unforeseen costs. This is why it's important to define your transport requirements at an earlier stage. Details such as pallet dimensions, weight, pick-up & delivery locations, and dates should be known before you post a transport request.
• Choose from 6000+ verified carriers
Saloodo! gives you access to a growing network of carriers verified according to DHL's Code of Conduct. You have the freedom to decide who will transport your shipment based on the offers you receive.
• Track & Trace
After you selected the offer that suits your request, you can start tracking the progress of your shipment. You also have access to live chat support and customer service assistance. This way, you have a full overview of the entire shipping process and you can always follow-up on the transport status.
Your digital logistics experts
We combine the logistics know-how and infrastructure of a global player with the flexibility and digital competence of a start-up. Learn more in our blog, the Logistics dictionary, and our info pages.
Ready for the logistics of the future?