Pallets | Ship pallets | Dimensions | Pallet size chart | Transport | DHL
Everything you need to know about
pallets for your freight shipment
Do you want to ship pallets?
There are some general rules considered standard within the logistics industry that can be applied to your benefit when it comes to pallet transport. On this page, you will find all the details that will help you ship your goods safely and securely.
However, when it comes to shipping pallets, there is rarely one answer that fits all. Depending on the scope, dimensions, goods you transport and estimated costs, the shipment of pallet can differ from one country to another.
Ship pallets with Saloodo!
Saloodo! provides its customers with the highest level of quality service. With us, you can transport any pallets only within a few clicks on our digital platform. Moreover, you can register for free, get immediate access to a growing network of verified carriers and choose from multiple offers depending on your preferences.
Saloodo! helps you to keep track of your shipment at any time. You will receive benefits through our live chat service and get in contact with our dedicated customer support team. By using our quality service, you will be able to transport pallets conveniently throughout Europe as your contract partner and single point of contact.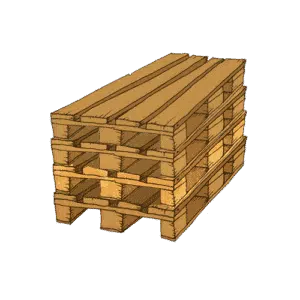 From a technical point of view, a pallet is simply a flat structure with dimensions.
The definition describes it as a packaging material used to transport goods. Its use can range from storing, securing, stacking, and handling all types of materials for different ways of transportation. A pallet is usually secured to prevent damage. Without a corresponding pallet, goods are in danger of getting faulty during transport.
Ship pallets safely and reliably to your destination of choice. With Saloodo! you can:
Why should I use pallets?
You should use pallets to secure shipment. There is a method of storing, securing and transporting stackable goods on pallets, and then shipped as a unit load. This method is called palletization.
Palletisation enables equipment such as fork-lift trucks to standardise the way loads are handled. As most items shipped require this method, pallets are an essential part of protecting your goods from damage. Without them, shipping items would no longer be safe.
How big are pallets?
There are, however, six 
ISO
approved pallet sizes. Taking their standards as a guide will prevent you from switching pallet dimensions to country sizes if your goods travel across continents, as you will know what is considered 'standard' for every region.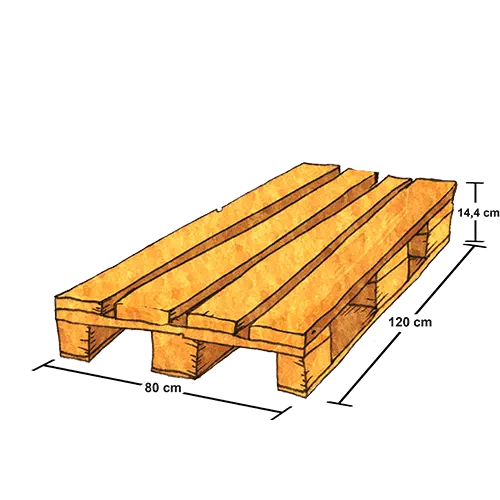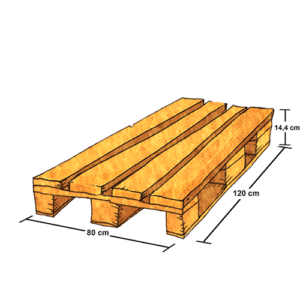 In the following you can find size charts for ISO, European and North American pallets:
·        ISO
| | | |
| --- | --- | --- |
| Dimensions (W × L) millimetres | Dimensions (W × L) inches | Region most used in |
| 1016 × 1219 | 40.00 × 48.00 | North America |
| 1000 × 1200 | 39.37 × 47.24 | Europe, Asia; similar to 40″ × 48″. |
| 1165 × 1165 | 45.9 × 45.9 | Australia |
| 1067 × 1067 | 42.00 × 42.00 | North America, Europe, Asia |
| 1100 × 1100 | 43.30 × 43.30 | Asia |
| 800 × 1200 | 31.50 × 47.24 | Europe; fits many doorways |
·        European
The European Pallet Association (EPAL) have agreed upon standard European pallet dimensions, making it possible to exchange "pallet for pallet" (also known as pallet exchange). The most common EUR-pallet dimensions are:
| | | |
| --- | --- | --- |
| Dimensions (W × L) millimetres | Dimensions (W × L) inches | Region most used in |
| 1016 × 1219 | 40.00 × 48.00 | North America |
| 1000 × 1200 | 39.37 × 47.24 | Europe, Asia; similar to 40″ × 48″. |
| 1165 × 1165 | 45.9 × 45.9 | Australia |
| 1067 × 1067 | 42.00 × 42.00 | North America, Europe, Asia |
| 1100 × 1100 | 43.30 × 43.30 | Asia |
| 800 × 1200 | 31.50 × 47.24 | Europe; fits many doorways |
·        North American
The most widely-used pallets in the United States are the GMA (The Grocery Manufacturers Association) pallets. Their production rank is 1, with 30% being produced in the U.S each year alone.
| | | | |
| --- | --- | --- | --- |
| Dimensions, mm (W × L) | Dimensions, in (W × L) | Production Rank | Industries Using |
| 1016 × 1219 | 40 × 48 | 1 | Grocery, many others |
| 1067 ×1067 | 42 × 42 | 2 | Telecommunications, Paint |
| 1219 × 1219 | 48 × 48 | 3 | Drums |
| 1219 × 1016 | 48 × 40 | 4 | Military, Cement |
| 1219 × 1067 | 48 × 42 | 5 | Chemical, Beverage |
| 1016 × 1016 | 40 × 40 | 6 | Dairy |
| 1219 × 1143 | 48 × 45 | 7 | Automotive |
| 1118 × 1118 | 44 × 44 | 8 | Drums, Chemical |
| 914 × 914 | 36 × 36 | 9 | Beverage |
| 1219 × 914 | 48 × 36 | 10 | Beverage, Shingles, Packaged Paper |
| 889 × 1156 | 35 × 45.5 | Unknown | Military 1⁄2 ISO container, fits 36″ standard doors |
| 1219 × 508 | 48 × 20 | Unknown | Retail |
Which types of pallets exist?
Depending on their usage, the material used to make the pallets can be wood, plastic, metal or in some cases, even paper. Below you will find a list of pros and cons for each type of pallet material.
There are different types of pallet materials, which are wooden, plastic and metal.
·        Wooden
The most used material to make pallets is wood. The reason for that is mainly because wood (as a material) is durable, fixable, strong and eco-friendly. Wooden pallets can be made of softwood or hardwood, depending on the type of tree used in the pallet creation.
Advantages
Wooden pallets are usually light-weight, versatile and can be reused or resold
Some of the cheapest pallets are made of softwood
They can be easily repaired in case of damage
Wood is the most in-demand material for pallets, mainly because of its durability and stiffness
Disadvantages
Wooden pallets can break under heavy loads
Wooden pallets can get damaged in contact with water
Wooden pallets are susceptible to bacterial, chemical and insect contamination
Best Practice
Perfect for storing sealed and non-biodegradable materials
Pallets made of wood can be reused for furniture
·        Plastic
Plastic pallets are normally made of recycled drink bottles or high-density polyethylene. Normally, plastic pallets can be used up to a hundred trips or even more. They are used widely in Europe and the U.S.
Advantages
Plastic pallets are easy to be sanitized
Plastic pallets are resistant and they weigh less than wooden pallets
Plastic pallets are weather resistant
Disadvantages
The cost for plastic pallets is higher than for wooden pallets
They are difficult to repair and must be replaced
Best Practice
Plastic pallets can meet the strict requirements for pharmaceutical industries
Plastic pallets can be safely used in the beverage and food industries
Storing and transport in retail stores
·        Metal
Metal pallets are the least used pallets in the industry, making up only 1% of the market. Normally used for heavy loads, the material of the pallet can be or include carbon steel. aluminium and stainless steel.
Advantages
Carbon steel pallets have a great durability at a low cost
Metal pallets are easy to stack
Metal pallets are corrosion and weather resistant
Disadvantages
Expensive compared to other pallets
Metal pallets can be heavy
Best Practice
Ideal for chemical industries, where pallets need to withstand harsh environments
Also great for catering business as the items can be preserved under the best hygienic conditions
What are the best pallets to use?
The general idea is that pallets need to be moved easily through buildings, be stackable, fit in racks and be accessible to material-handling equipment (forklifts, cranes, jacking device, front loaders, etc).
There are no universally approved measurements, so pallets dimensions can differ from a country to another.
Companies across the globe use pallets of different sizes, depending on the country handling and transporting them. The best pallets to use depends entirely on the nature of your goods, the pick-up & drop-off locations as well as on the type of transport you choose.
How can pallets optimise my transport?
With pallets, you can:
Secure your shipment and protect it from external damage during the loading, unloading points, and the overall handling process
Save time by allowing carriers to load and unload your goods safer and faster
Combine goods and ship them into a single load unit, having fewer items to track
Benefit from material durability, as pallets are more secure than other materials used for transport (cardboard boxes or plastic wrappers)
Maximize the truck capacities of your carriers, as pallets are not  heavy-weight and do not take up so much space
Recycle and minimize damage to the environment, as most of the pallets materials can wear down, be melted or sold as scrap
How to ship pallets with Saloodo!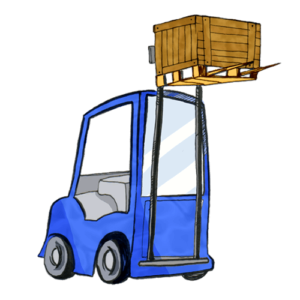 • Describe your shipment
Planning ahead will help you eliminate unforeseen costs. This is why it's important to define your transport requirements at an earlier stage. Details such as pallet dimensions, weight, pick-up & delivery locations, and dates should be known before you post a transport request.
• Choose from 12000+ verified carriers
Saloodo! gives you access to a growing network of carriers verified according to DHL's Code of Conduct. You have the freedom to decide who will transport your shipment based on the offers you receive.
• Track & Trace
After you selected the offer that suits your request, you can start tracking the progress of your shipment. You also have access to live chat support and customer service assistance. This way, you have a full overview of the entire shipping process and you can always follow-up on the transport status.
Your digital logistics experts
We combine the logistics know-how and infrastructure of a global player with the flexibility and digital competence of a start-up. Learn more in our blog, the Logistics dictionary, and our info pages.
Ready for the logistics of the future?