To help you on this quest, the packaging aficionados over at No1 Packaging will be sharing some essential considerations when it comes to your packaging choices in this guest article. With the right packaging solutions, you can ensure goods arrive intact, while also improving space utilisation during shipping and storage.
Packaging materials
 Nowadays there's a vast choice of packaging materials on the market, but that doesn't mean that every option will be right for your business.
Ultimately, when picking your packaging, you need to opt for a material that will protect goods during transportation and storage. The wrong choices could mean damaged cargo that's essentially worthless and costs your business money.
First, factor in material strength. Your packaging needs to be able to securely hold the goods within without them becoming exposed or broken. This is particularly important if you're shipping heavy goods or fragile items.
The second consideration is whether the material is suitable to withstand the rigours of your supply chain processes, from picking to shipping. This could be anything from environmental factors such as exposure to moisture or chemicals to mechanical ones like contact with lifting machinery.
Finally, you'll need to think about the cost of materials. More durable, heavy-duty materials can have a higher price point, but in many instances, standard packaging will be sufficient. Weigh up the risk of damage to goods vs the cost of more expensive materials. This may involve some research and testing of different materials and suppliers, but the due diligence could see you find a better price without affecting performance.
Space optimisation
Many supply chains are fully aware of the need to optimise space for storing and shipping their goods. However, your packaging choices can also impact space utilisation. While a few millimetres or centimetres here and there doesn't sound like much in isolation, cumulatively it can end us being a significant amount.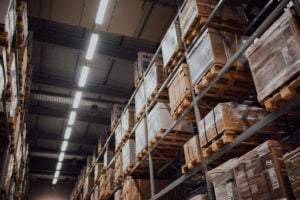 Look to make the best use of space with compact packaging solutions. For instance, could you reduce the amount of packaging on certain items to make them more streamlined and lighter? Or can you stack large shipments onto pallets or use stackable crates to better use height in shipping containers?
Just as you'd look to maximise warehouse space by utilising vertical space and making use of every inch, apply the same principles to your packaging. You may be surprised at how simple and small adjustments can positively impact space and weight of shipped goods, as well as transportation costs overall.
Packaging design
 The design of your packaging is crucial from both an aesthetic and practical standpoint, and often finding the right balance between the two isn't easy. You need to take into account any storage and transportation, as well as the impact on the end user.
If you're looking to maximise the efficiency and effectiveness of your packaging through its supply chain lifespan, it can pay to take a more holistic and customised approach to its design. This should ensure you can marry function and aesthetics together to create product packaging that's robust and protective without compromising on the unboxing experience of the end user.
Where possible, ensure the customer-facing packaging is designed to withstand a good deal of handling without affecting the contents inside. That way, it can be packaged in bulk for storage or shipping in a larger container, then quickly unwrapped and placed on the shelves.
Taking out any unnecessary, bulky or labour-intensive design elements of your product packaging comes with the benefit of saving time, money and waste. This is naturally a winning combination for your business's bottom line.
With consumers having an increased awareness of the environment and favouring sustainable packaging, this is also something worth factoring in with packaging design. Where possible, opt for eco-friendly packaging options or materials that can be recycled or reused to reduce waste.
Packaging testing
 As we mentioned in our first point, the key to making packaging work to improve your supply chain efficiency is going to be in the research phase. There's little sense in overhauling your packaging materials and designs without having put them to the test in the real world.
Before you invest big in new packaging and processes, take the time to carry out rigorous testing (both real and simulated) to measure their performance and functionality. This will ensure that whatever decisions you make, you'll end up with packaging solutions that work for your business, helping to save time, money and waste throughout your supply chain.
Choosing the right packaging may seem like a fairly straightforward process on the face of it, but it's about more than just providing the right vessel to carry goods. By taking these considerations into account, you can make sure your packaging adds clear value to the efficiency and profitability of your supply chain both now and in the future.