#1 Digitization
Digitalization is already in full swing, visible in business processes from administration to operations to human resources. Digitization is no longer about simple information and communication technologies or enterprise resource planning (ERP) at the workplace, but about the development of completely new business processes and models, including integrations along the value chain. It is a matter of transferring the possibilities of relocating the place of purchase as well as important elements about the provision of services to the digital environment and helping to achieve a breakthrough.
In a study by PricewaterhouseCooper management consultants, 57% of companies surveyed stated that digitisation would increase their revenues (PwC Global Digital IQ Survey 2017).
Companies can also use digitisation to simplify their processes, redesign their services, products and business models and reduce the impact of staffing gaps.
Digitalisation is expected to change the way consumers interact with the economy, from online and mobile booking of personal rides to taxi services, car sharing and public transport ticketing.
#2 Changes in international trade
Shifts in international trade are already visible, but will become even more apparent from 2020. The growing volume of trade between China and the EU (in both directions), new investments along trade routes and land transport (as an alternative that is faster than sea freight and cheaper than air freight) are likely to reshape international logistics in Eurasia. New trade routes will be opened and existing ones expanded as emerging economies become increasingly linked to the world economy.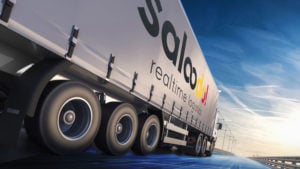 The changes in international trade will be driven by the conclusion of free trade agreements, the emergence of trade wars and trade barriers resulting from regulations, the globalisation of transport companies and infrastructure development (e.g. the Belt and Road Initiative supported by the Chinese government).
Transport and logistics companies will undoubtedly benefit from the modernisation of railways, motorways, telecommunications and other facilities such as hubs along new trade routes. The "New Silk Road" corridors between China and the EU are expected to grow rapidly in the coming years. Such developments will reduce transport costs and allow the creation of new services.
#3 Software controlled process changes
It is expected that software-supported process changes will grow dynamically in the coming years, which will bring even greater benefits to businesses – but at this point these solutions still have to find their way into the mainstream. The development of basic technologies such as Artificial Intelligence, the Internet of Things, Big Data Analysis or Blockchain/DLTs (Distributed Ledger Technologies) and the associated pressure on business effectiveness will create a favourable environment for the development of such solutions.
The following solutions are expected to transform the transportation and logistics industry into software-driven process changes:
Intelligent transport systems
Process automation by robots
Foresighted solutions (e.g. for maintenance and delivery)
Blockchain and all other ledger technologies
AI solutions
Companies are expected to implement them to create cost and quality benefits, as well as better insight into freight flows, so that customers experience more convenience and are better informed about transport services.
#4 Changes in the Internal Market
Considerable changes in the domestic business of the markets can be expected in the coming years. They will be supported by optimistic growth forecasts, the development of e-commerce markets and the Sharing Economy as well as increasing M&A activities in the transport and logistics sector.
Solutions in this area are also driven by changing consumer expectations and an ageing society. All these changes will lead to a push for new services and different integrations of the value chain between producers, including e-tailers and transport and logistics companies.
There are a number of new solutions that companies can explore because of changes in domestic commerce to offer consumers more affordable and innovative services, more convenience in online shopping, and new ways to share resources for everyday use. In this context, leading brands will look for further opportunities to increase their online sales. eCommerce companies will invest in logistics, while CEP companies will develop tailor-made solutions for eCommerce. The Sharing Economy remains an exciting growth area for companies, but there will also be further consolidation in logistics.
#5 Machine-driven process changes
Among other things, machine-driven core process changes are expected to increase the efficiency of transport and logistics services. Solutions in this area require investment in new technologies and well-thought-out implementation.
Machine-driven process changes will be made possible in the long term by the development of basic technologies (including advances in electric mobility) and changing regulations. They will also be shaped by an emerging focus on environmental sustainability.
With the wider application of the following engineering solutions, transportation and logistics companies can benefit from increased work efficiency, automation of core businesses and the ability to address bottlenecks and design some new services.
These include:
Robotisation
Electromobility
Augmented Reality and Mixed Reality Devices
High-speed rail services
Optimization of the last mile
For consumers and employees, machine-driven process changes mean that in the future they will interact less with people and more with machines, but ultimately also lead to greater availability of flexible services.