Companies have to brace for more steep increases in shipping and logistic costs. There are numerous explanations for the raise in freight rates:
EU Mobility Package 2022 implementation
Without a question, one of the most serious issues currently affecting the transportation costs are the Mobility package modifications (we informed here about the newest restrictions and when they step into force), which are slated to take effect on various dates. The most recent will go into effect on February 21, 2022, and will directly address driver rest requirements, the return of trucks to their nation of registration, and cabotage law revisions. As a result, the average number of working time for drivers has been reduced to four weeks. This means that the industry will need to recruit more drivers to make up for the difference. However, freight forwarders are practically not able to find personal, and the consequence is, trucks will stand still, not being able to transport waiting goods. The lack of available freight space increases freight rates dramatically.
Europe's driver shortage continues to worsen.
According to industry organizations, HGV drivers are still in very short supply across Europe, with a shortfall of 80.000 in Germany, in Poland of 124.000 and 400,000 all over the continent. The UK are suffering due to Brexit under an even heavier scarcity of drivers.
"The shortage of drivers is seriously disrupting supply chains in European countries as economies recover and demand for transport services increases. (…) The urgency of the situation is reinforced by the continuous increase in fuel prices throughout 2021, also putting transport operators under great pressure."
Vincent Erard, IRU's Director of Corporate Services
As a result of an aging workforce (average age of drivers is over 50) and difficulty in attracting young workers, predictions say that the situation will get worse. The aging of the baby boomer workforce has exacerbated the current driver shortage. Younger applicants are very hard to find as a result of poor driver earnings, unappealing working conditions, and lengthy working hours. To improve the situation the industry has to enhance the working conditions, first of all adequate payment. The shipper will of course see the raise in the total freight rates.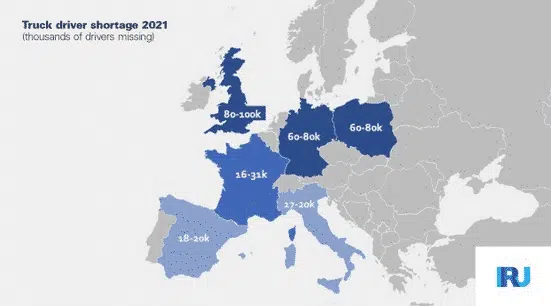 For a deeper focus read on at DHL Freights "Truck Drivers Shortage in Europe".
A breakdown in the supply chain
Before the pandemic supply chains (and its resilience) weren't on everyone's lips on a daily base. But nowadays these interruptions in global supply chains exacerbate the transport sector position. There has been a tremendous traffic bottleneck in the global flow of goods since the August 2021 closing of the Suez Canal and the pandemic-related shutdown of significant ports in China and elsewhere. At a certain point, as many as 100 containers and cargo ships are only anchored off of the East Coast ports of the United States, not speaking of the ships in Chinese harbors. This still ongoing delays and freight shortage have freight rate raises as a consequence.
Oil prices are still high
The price of oil has climbed dramatically in the last few months. Increased production quotas from the OPEC nations are expected to reduce the high fuel costs. Such a move has been rejected by countries across the world. In the future months, the situation in this strongly fuel-dependent industry will not improve.
"It's going to be a bumpy ride and it could be a particularly painful year for people filling their tanks.
January, February, think of these 2 months as the calm before the storm."
Patrick De Hann with GasBuddy.
Currently diesel buyers will have to spend currently about 41 percent more on fuel than in December 2020, with high crude oil and natural gas prices adding to the raising cost of diesel. The additional CO2 taxes coming into charge after the beginning of 2022 in most countries also play a significant role in the very high diesel and fuel prices.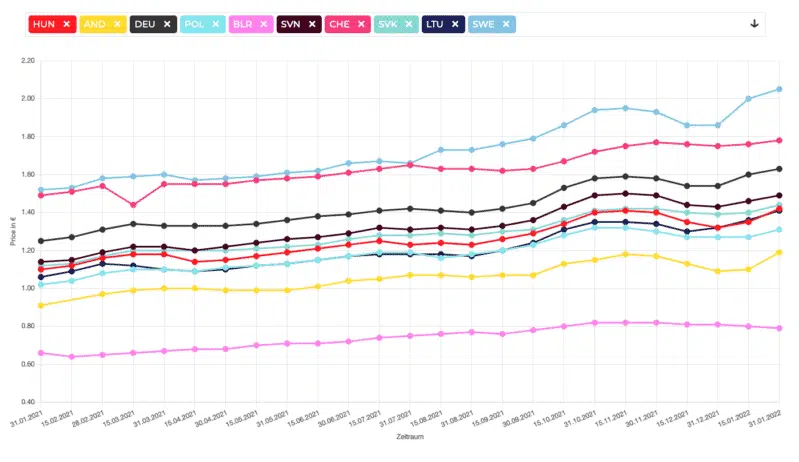 High demand and low capacities
With high shipping demand still outweighing restricted capacity in the freight sector, industry experts say freight forwarders have negotiating power to increase rates when negotiating new contracts. Logistics' executives predict that rates set in most annual contracts will more than double from before supply-chain-related squeezed capacity. Contract prices are expected to rise due to these costs by double digits in 2022, according to several trucking businesses.
Why the Brexit pushes prices even more: This is the real cost of Brexit: What it means for Logistics & Transport
When will freight rates decrease again?
Because of the current economic climate, many import and export businesses are wondering when freight rates or shipping costs would decrease. What's the answer? Not in the near future.
Importers, however, have a few options at their disposal, despite potential delays and hefty transportation costs. What you need to consider about today's freight market:
By comparing several quotes and modes of transportation, you can verify that you are receiving the most cost-effective service possible. Prices can be compared using digital logistics platforms.
Make a worst-case strategy for freight prices and transit times in case something unexpected occurs.
It is critical to be prepared in the event of unforeseen delays, higher costs or a shortage of capacity.
Examine warehouse options to minimize the effect of lower demand and business restraints on your company.
Stay updated on the profitability of your goods to see if a pivot is essential.
When estimating profit margins, remember to account for delivery costs as well.