Following the transformation of consumer-oriented industries such as retail, entertainment and travel, digital start-ups are beginning to gain a foothold in commercially-oriented industries. Road freight transport, which is still highly fragmented and dominated by manual processes, is seen by digital challengers as overdue for change.
At the same time, new players in digital freight transport benefit from a remarkable increase in funding. Venture capital funds invested more than $3.3 billion in digital shipping and logistics start-ups between January 2012 and September 2017. A significant share of these funds goes to newly established road freight transport companies.
For the established companies, road freight transport was a competitive business with low profit margins. Digital start-ups could make life even more difficult by introducing new business models and tackling the constant inefficiencies. Companies must act now to seize digital opportunities or face eroding margins and declining volumes.
Traditional practices under attack
Digital start-ups are targeted at the road transport industry because several painful points offer an opportunity to transform the market. These problems are most evident in the Western European market.
High fragmentation, low transparency.
In Western Europe, the road transport industry has more than 300,000 transport companies, ranging in size from multi-billion-dollar companies to small haulage contractors; the share of large players is only between one and two percent. Such market fragmentation often spurs competitors to work together to achieve economies of scale and deliver better value to customers. But an industry-wide culture of mistrust has prevented road haulage companies from working together and reaping the benefits. Companies compete largely on price, which is determined by supply and demand for freight capacity, while customers have limited insight into the rates, capacity, quality and reliability of carriers.
Underutilization of assets.
In 2016, the utilisation rate of Western European road freight capacity was 60% (similar to the percentage of assets employed in the US) due to trucks returning from trips being empty or only partially filled. This unused capacity cost the Western European industry around EUR 100 billion, a considerable amount if one considers that the industry's turnover was EUR 300 billion and its profits around EUR 10 billion.
Costly manual processes.
Limited automation and digitalization of core processes (such as scheduling, order management and load consolidation) contributed to the industry's high costs. In addition, recourse to paper-based processes has typically resulted in a significant loss of information.
Outdated customer interfaces.
In many industries, companies' web-based customer interfaces enable seamless, efficient and fast transactions. In road freight transport, however, such interfaces are generally outdated. This is often due to outdated IT systems. Customers have to put up with lengthy procedures for obtaining a quote, cumbersome documentation processes and lack of real-time freight tracking.
The established Western European road haulage companies are still facing considerable additional burdens. Margins in the industry are still at historic lows: Profit margins before interest and tax average between 2 and 3%, with larger hauliers achieving margins below 5%. At the same time, weak market entry barriers and limited cross-border regulation make road haulage companies vulnerable to losing market share to Eastern European hauliers with cheaper prices.
In the US, some road haulage companies are more profitable than their European counterparts, but they generally face similar challenges: The market is highly fragmented and individual players lack the size to improve the utilization of their facilities. In addition, paper- and telephone-based processes are still common, and the spot market is dominated by thousands of brokers who manually bring shippers and forwarders together.
Seizing the digital opportunity
Despite a difficult environment, the incumbents have an advantage thanks to their assets, industry know-how and customer and supplier relationships and networks. However, if incumbents fail to digitise their offerings, the business models of digital start-ups, together with their transparency on tariffs and capacity, will increase pressure on incumbents' margins. Some of the current players will lose market share to cheaper, more agile digital competitors. For example, traditional carriers may lose business to virtual carriers.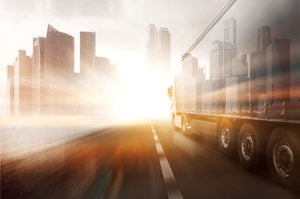 Incumbents have an advantage thanks to their assets, know-how and networks.
By responding proactively to the start-up challenge, incumbents have the opportunity to replace their manual processes with more efficient digital processes, introduce digital business models and find innovative ways to gain market share and break out of the low-margin trap of the industry. Digitisation can help existing players to differentiate themselves from the competition, reach new customers and retain existing customers in an otherwise commercially oriented industry. Established companies stand out by taking the following steps:
Automation and digitalization of processes.
Some players automate core internal processes and upgrade their customer interfaces with digital front-ends to reduce transaction costs and improve the customer experience. One example is the online portal of DHL Global Forwarding, myDHLi.
Cooperation with startups.
Some companies work with new entrants to gain insight into and benefit from next-generation technology developments and business models while supporting their core business.
Building digital businesses.
A small number of players create digital start-ups. For example, Saloodo!, the digital freight platform of Deutsche Post DHL Group, is an open, neutral marketplace for transport services. This corporate start-up is developing so positively that it is currently expanding globally.
The new digital landscape
Digital start-ups in road freight transport mainly offer five types of solutions and address specific pain points.
Fleet management systems
An FMS helps freight forwarders to improve the efficiency of their fleet by analyzing operational data; road haulage companies often collect fleet and driving data using telematics units on board trucks. FMS products and services include vehicle management solutions that diagnose potential problems and enable companies to take action (e.g. carry out preventive maintenance); driver management solutions that monitor driving performance, ensure safety and avoid unnecessary costs; operations management solutions that focus on route planning and optimization and mobile workforce management; and network solutions that support the integration of enterprise resource planning software.
Transport Management Systems
A TMS enables the digital integration of all transport-related activities and participants in the logistics process. Such a system uses the data generated by an FMS to enable several functions, including dispatching loads onto vehicles, managing intermodal transports, tracking shipments and achieving KPIs. A TMS also functions as an onboard digital operating system that hosts various applications in the truck, such as telematics.
A TMS can be one of two types. The first type is a networked or cloud-based system that provides software-as-a-service solutions for multiple players. The second type is an on-site solution for a single company.
Marketplaces
These websites help to improve transparency and efficiency in the market by bringing together shippers and freight forwarders and by matching the supply of road transport capacity to demand. The marketplaces can be divided into two main types:
shippers to carriers. These marketplaces help shippers to find available freight capacity for full or part loads, while helping freight forwarders or carriers to increase capacity utilisation.
Freight forwarder to freight forwarder. These marketplaces allow carriers and freight forwarders to exchange truck capacity and loads, including shipments with less than one truckload.
Some marketplaces facilitate shipper-to-shipper and carrier-to-carrier transactions at the same time. A European example is Saloodo. Marketplaces also offer services in addition to their matching and booking functions; marketplaces provide users with a platform to purchase freight capacity, but Saloodo! is the only one that directly participates in the negotiation of shipper-to-carrier contracts, providing additional security for both parties.
Digital forwarders
Digital freight forwarders typically contract with carriers and act as a single point of contact for shippers for all transport-related services, including contracting and payments. These start-ups thus represent a challenge for traditional carriers. Digital freight forwarders guarantee delivery performance and can purchase capacity, although this is less common in the road freight industry than in the air and ocean freight industry, as the latter have more standardised delivery routes. One example of a digital freight forwarder is Saloodo! which, once booked through its neutral freight marketplace, is a contractual partner for both shippers and carriers.
Tendering platforms
These platforms help shippers and carriers to directly negotiate longer-term transport contracts. Such platforms also offer innovative approaches to reduce the network imbalances of forwarders by optimizing the networks of the partners.
What the future could look like
Incumbents must respond to digital challengers, otherwise they risk falling behind. Consolidation will produce only a handful of winners, as has been the case in other digitally disrupted industries. Incumbents must act now to have a place on the starting line, benefit from greater differentiation and attract new customers. The track record of players in the digital freight sector shows how companies can act against the industry trend and achieve reasonable margins. All of the digital solutions outlined above have the potential for sustainable success, although some of them could end up as niche offerings.
In the coming years, digital start-ups are likely to continue to push into the road freight industry, as nimble new entrants benefit from the inefficiencies in the industry. A handful of strong players are already emerging from the newcomers and gaining ground.