Customers of forwarding companies are increasingly requesting environmentally friendly transport services and more and more transport companies are also recognising the potential of green technologies and solutions. Saloodo! has made it its mission to provide a platform for this commitment and to reward green pioneers in the industry.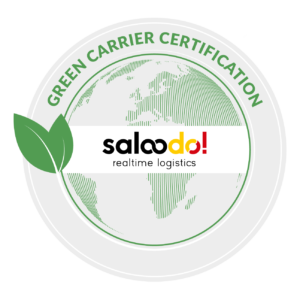 The digital freight platform has launched the "Green Carrier" certification programme in summer 2020. The aim was to evaluate and certify freight forwarders with regard to their sustainable activities. In this way, shippers should be offered more transparency regarding the environmentally friendly orientation of transport service providers.
Within the framework of the pilot project, freight forwarders registered on the digital freight platform were able to participate voluntarily in the certification process. To do so, they had to answer a questionnaire based on market standards, which covered the areas of sustainable management, transparency, basic green technologies and advanced technologies. Questions in the field of "sustainable management" were intended to provide information on the strategic and sustainable orientation of the freight forwarding company. The "transparency" section examined the willingness and ability of the transport service provider to disclose data for the calculation of CO2 emissions. The other two blocks, "basic technologies" and "advanced technologies", provided an insight into the use of environmentally friendly technology. On the basis of the evaluation of the questions and the review of all documents submitted, the transport companies were divided into the certification classes "Pass", "Good", "Excellent" and "Outstanding".
"As an innovative, digital freight platform for road transport, sustainability is an important pillar of Saloodo! After all, the use of our platform by its very nature ensures better truck utilisation," explains Dr Antje Huber, Managing Director and responsible for green logistics at Saloodo! "Our goal is to reduce unnecessary empty runs and make transports more efficient. We have a clear vision on this topic: Make your customers more profitable and more environmentally friendly at the same time. We are therefore very happy to see how many of our customers are already committed to sustainability and environmental protection".
Saloodo! customers with excellent environmental characteristics
In the course of the pilot project, Saloodo! was able to award and certify many sustainable transport companies. Due to the current situation around the Corona pandemic, the corresponding certificates were of course sent to the companies digitally.
"We are proud to be one of the first forwarding companies to receive such a certificate. It encourages us in our plans to continue to focus more on alternative drive technologies in the future," explains Marco Herr, who, with his freight forwarder Herr Cargo, relies on gas-powered trucks and was thus able to obtain the "Excellent" certificate.
The aim now is to establish the certificate in the market and to be able to award further transport companies in order to put trucks in the green overtaking lane in the long term.