Saloodo! is the digital freight platform that does just that. Saloodo! was founded in 2016 by DHL, the express, transport and logistics specialist within Deutsche Post DHL Group, and went live in early 2017. The platform offers shippers and transport companies a novel, powerful digital solution that maximizes efficiency in all steps of transport ordering and processing. The freight platform is currently already available in more than 55 countries in Europe, the Middle East, Africa and South America. Today, Saloodo! counts more than 45,000 shippers and over 16,000 forwarders among its customers – and the trend is rising.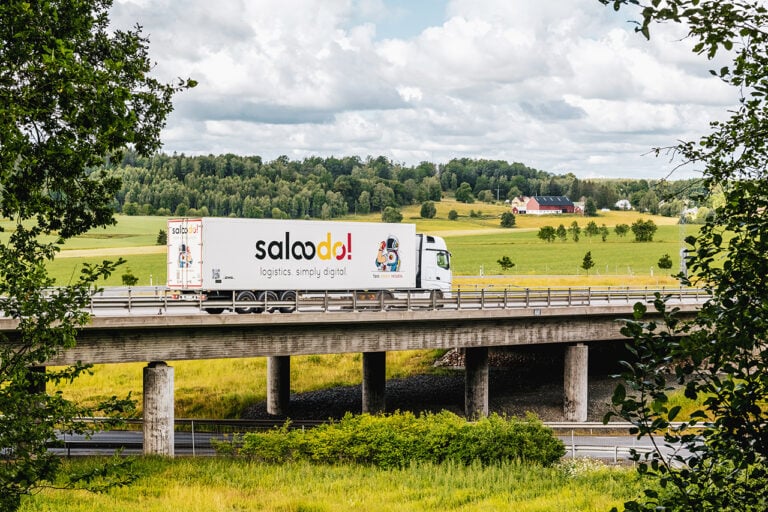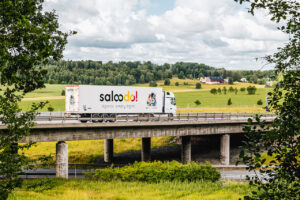 Saloodo! is both an online freight exchange and a digital freight forwarder, making it the all-in-one solution for the transportation and logistics industry. The platform is aimed at both shippers and transport companies of all sizes, who can present their capacities on the platform and find suitable cargo. Companies with short-term shipping needs as well as small and medium-sized enterprises use Saloodo! to find competitive offers from suitable transport companies for their general cargo shipments as well as partial and full loads. The transports are then handled in a safe and uncomplicated way. With the free choices of a marketplace and the security and convenience of a digital freight forwarder, Saloodo! is the answer to advancing digitalization in the highly fragmented transportation market.
Free of charge with security
The registration as well as the use of Saloodo! is free of charge for both shippers and transport companies. No monthly or user-dependent fees are charged to companies. Shippers only pay the costs for the transports they have booked – and are on the safe side at the same time. Because with Saloodo! only audited transport companies committed to the DHL Code of Conduct take on the orders. Saloodo! ensures that all submitted documents are up-to-date, complete and verified before the service provider is activated on the platform. Even after their admission to the digital freight platform, the validity of the submitted documents is permanently checked.
Another special feature: Saloodo! is a contractual partner of both parties. This further increases the security and reliability of the processes. In addition, with only one central contact person, administrative processes are simplified and accelerated. The usual operational challenges, for example in the event of damage, are thus a thing of the past. For transport companies, this means that they can offer their services to a large group of shippers and at the same time benefit from Saloodo! as a contractual partner – this guarantees short payment terms.
Consistently digital
After logging in, Saloodo! offers a direct overview of a large number of verified transport companies on the user-friendly interface. Entering shipment details is quick and easy with the help of the intelligent shipment wizard.
In addition, the user receives a price indication for the respective transport based on a comprehensive database before a binding booking is made. After the transport request is sent, the transport companies connected to Saloodo! submit their offers to transport the cargo.
The partners also handle the operational processes of the transports via Saloodo! A structured dashboard is available for this purpose, on which all information on transport orders, shipment status, proof of delivery, damage documentation, invoices, etc. is clearly displayed and available for download at any time. All information is available in the dashboard in real time.
Invoicing and payment are also finally handled digitally via the platform.
Digital platform reduces costs and increases efficiency
Saloodo! provides a central, easy-to-use and reliable interface for shippers and forwarders that helps optimize costs, routes, freight loads and transit times. A benefit for customers: Linking Saloodo! to DHL Freight's Freight Quotation Tool (FQT). This allows shippers to have their goods transported at competitive prices while benefiting from the security and efficiency of a fully digital logistics solution. Shippers simply select their preferred carrier and receive real-time notifications during the transportation process, from pickup to delivery. Last but not least, all carriers connected to Saloodo! are verified according to the DHL Code of Conduct.
"Saloodo! brings more transparency and efficiency to road freight transport and enables shippers of all sizes – from small businesses to large corporations – to find trustworthy and reliable carriers. At the same time, shippers benefit from even higher volumes supported by DHL Freight, helping them manage their existing fleets and optimize their capacity for full loads," says Antje Huber, CEO of Saloodo!
New feature: Enhanced document management
The newest feature of Saloodo! is the advanced document management within the platform. In addition to mandatory documents such as the transport order, shippers can now digitally share other relevant documents, such as customs documents, with their contractors. The transport service providers can see the documents uploaded to their order in their dashboard and are also informed of their availability by e-mail. This way, important transport documents can no longer be lost or overlooked and are always available for shippers and transport service providers. Saloodo! thus makes all transport documents accessible online, providing an optimal end-to-end solution for the entire transport process. DHL's logistics expertise combined with the flexibility and digital capabilities of Saloodo! ensure that digitalization efforts in road freight transport are driven forward quickly and, above all, securely.