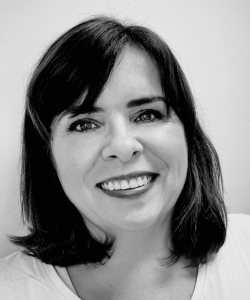 A coffee-long interview with
Our platform is growing and simplifying people's lives in logistics. But who are the people behind the screens?

We start the year right: 2023 is the year of our 5-year-anniversary Saloodo!nauts. Let us start by introducing Melani to you.
Who are you, tell us something about yourself?
I'm Melani, 48 years old, and currently work as a Senior Expert BPO at Saloodo!. Parallel to my job, I am studying Business Consulting and Digital Management at the FOM, graduating with a Master's degree. When I'm not working on specific solutions for our customers at Saloodo!, you can find me at home with my 2 cats and in my own Urban Jungle.
What many may not know about me is that I am an absolute Escape Room fan. It's a great way for me to unwind.
How did you get into logistics?
I have been with DPDHL since 2015, at that time through a temporary employment agency, but was then hired by DHL in the Head Office in the area of Performance Management.
I came to Saloodo! to help with the development of the Digital Platform, to support the foundation of the startup with my expertise in loading equipment management since 2018. When the position of Team Lead Customer Service was to be filled, I could well imagine myself filling this position with my balanced, calm nature and did so for over 4 years. Then in 2022 it was time for a change of scenery: due to my extra-occupational studies I wanted to develop myself further and gain experience in the field of process optimization.
Male-dominated, old-fashioned and inflexible - attributes that many associate with logistics. How do you see that?

I was able to make the experience that none of these values are still true. Since I've been at DPDHL, I've seen a lot of women in the organization. Also, the tools we tailor for our customers at Saloodo! revolve around highly digital topics, such as digital receipts. On the topic of flexibility, I can only refer to my background, because as a career changer, I was able to positively contribute my knowledge and constantly develop myself.
I believe that you should seize opportunities when it comes to getting to know new areas and getting a taste of them. Only without fear can you find the job that suits you best. For me, the motto: "Be always open for new learnings", is indeed a guiding principle by which I align my career.
How has Saloodo! shaped you in the last 5 years?​
In such a dynamic, digital environment, in which I could also get to know many younger colleagues, the desire to further develop myself specifically in the area of digitalization has crystallized. The decision to study for a master's degree at the age of 46 is one that I would make again at any time. There is no age limit for personal and professional growth.
What are your goals for 2023?
This year I want to finish my master thesis, which is about "Agile methods in customer service".  I am thrilled that I can combine my professional experience and my acquired knowledge from my studies under this topic. The result of this work should be a recommendation as to which techniques from SCRUM or Kanban are particularly applicable for start-ups in customer service. In September I would like to compete in the Muddy Angel Run, that would be the first time I participate in such a run, it is an exciting challenge for me.