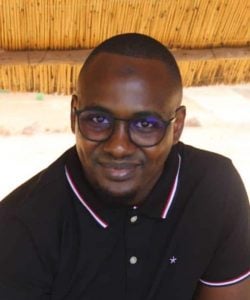 Interview for the length of your coffee.
Saloodo's digital freight forwarder platform is growing and simplyfing peoples life. But who are the people behind the monitors, working hours before you are even able to push the registration button?

Back on the road to far southern places today, we'll  find our
Saloodo! Lead for Burkina Faso, Mountag Sow. Read on about our positive and driven colleague and why he loves Saloodo! – and Africa.
Who are you? Tell us a bit about yourself.
I am originally Senegalese but I moved to Burkina Faso in 2019 for a job opportunity. I enjoy spending time with my friends and family – I am married and have two little brothers and sisters, as this boost me to give the best of myself. As an easy going person, one of my best attributes is to always be positive, and being a super fan of football which is also my habit, GAINDE (Senegal soccer Team) will lift the African Cup in Cameroun 2022, this is not a dream but a fact.
Tell us a bit about your work in Burkina Faso? How can we imagine logistics life?
Goods importation drives most of West African countries Economy, which leads to important logistics needs despite bad road conditions and lack of adequate logistics infrastructures. As a landlocked country, more than 90% of shipments in Burkina Faso are moved via Ports of Lomé, Abidjan or Tema and then re-forwarded mostly by road or rail.  The majority of products transported by road are machines, commodities, fuel, cotton, Shea butter, sesame, mangoes etc. In West Africa, customers generally look for the cheapest prices first, then the cheaper prices, then cheapest prices (LOL) and weight overload.
How did Covid affect life and logistics in Burkina Faso?
When Covid hit us all borders were closed for several months. This caused shortage in Air, Road and Ocean capacity and freight prices skyrocketed. Road borders have only opened for goods up to now. The majority of air freight has either been diverted to ocean freight or cancelled, or postpone. We have been impacted by slow processing in the port and severe backlog. Also, our Dry Port Ouaga-Inter was almost empty, something I had never witnessed during all years of its operation. As we are an import country, the effect on our economy was hard considering most of our clients were not able to place orders nor ship goods.
What brought you into Logistics and what's your motivation to keep going, especially with Saloodo!?
I first joined DHL Global Forwarding Burkina as part of the IT/BPO department. As an Engineer in telecommunication, It has been a passion to be connected to the world and to be able to connect the world to us. Being a part of Saloodo! is a first challenge as we are now on digitalization process, but after all a pride, especially when we know that it was implemented by an African – not to say Senegalese  – Amadou Diallo. My motivation is and remains to make Africa shine!
In Burkina Faso improvement of decentralization and food security are important topics. Has this an impact on your work?
Burkina Faso's decentralization plan brings the government to build new roads, new infrastructures and open an economic pool (livestock, market garden, fishing …). Saloodo! is an important player in the Burkina logistics chain both in the search for adequate service for transport and as a civic duty to improve the lives of our compatriots by responding to specific clients requests and developing sustainable solutions. Collection/delivery points are more accessible and producers are capable to increase their production capacity to meet the demand which will obviously drive the transport capacity. Thankfully, we have already created and environment to meet this development through Saloodo!. I hope that one day our countries will be connected by highways supported by a more fluid customs system, which would save us more time in transport and would hopefully allow us to compete with the maritime sector by connecting continents by road like Europe.
What are challenges and changes that affect you in your daily life being part of the transport industry in Africa?
We face many challenges: First of all the lack of qualified transporters and trained drivers as most of them are from informal transport companies. There is a shortage of specific equipment, or trucks for special transport, which makes us reach out to neighboring countries for solution to overcome these blockers. Also, due to the bad road conditions transit times are increased.The risk of accidents which result in prolonging distance because of route deviation. Additionally, there are too many customs checkpoints on road/corridors that slow the transit times because of no application of economic cluster zone commercial convention. Furthermore, terrorism makes some destination roads inaccessible because of security reasons.