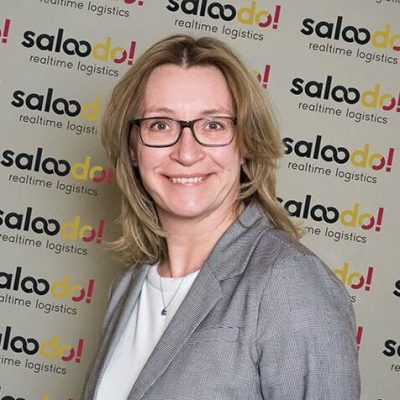 First introduce yourself, some words about you, how do you came to Saloodo!?
My name ist Antje Huber. After my studies and my dissertation, I was initially self-employed with a management consultancy. I then joined Deutsche Post in Corporate Development and, after a stopover in Tokyo/Japan, I took care of innovation and strategy issues at Deutsche Post. Finally, I switched to DHL Freight to become SVP Strategy & Marketing, and am now, since February, CEO of Saloodo!
Is there anything you would do differently knowing what you know now regarding your education?
I grew up in the eastern part of Germany – had a solid school education and after the wall came done started university. During this challenging time it was not easy to decide for the right university and study, I decided for Business Administration and I am happy that I did it. It offered me a lot of development opportunities.
What does it mean to be a woman in your position, also in regards to innovation and the possibilities that you have nowadays?
Since my childhood it was normal that women were working and taking also leading positions. I my self had the possibility to take leading positions during school, university and after university.
What advice can you offer to women who want a career in your field to empower her even more?
Solid education, live in foreign countries, follow you interests and get qualified also outside university. Take opportunities – be brave, stay curious and open.
What are the key takeaways in leading a diverse, young team like in Saloodo!?
The team is very important to me. I am sure that "a fair team can win games but a great team wins championships." In this respect, my first priority was and still is to give every team member the opportunity to develop and to increase employee engagement even further. I also see a great challenge in connecting the diverse team that works on 4 continents. The employees of Saloodo! (we call them Saloodo!nauts) are always curious to discover and learn new things and push borders. As a leader of such a motivated team you need to constantly challenge your people to get the most out of them and make them and yourself happy.
What are the initiatives implemented by you in your organization to encourage more women participation?
The most important issue is to create transparency about all the great women we have at Saloodo!. We support younger female colleagues through personal coaching and push the exchange of experiences with experienced female colleagues. Our goal is to strengthen them overall and support their learning journey. Of course, we also benefit from the many global initiatives of our parent company Deutsche Post DHL Group, which we adopt and transfer to the situation at Saloodo!. For example, sharing learning opportunities and personal experiences through our Circles initiative. The aim is to always look at the issue both quantitatively and qualitatively in order to give women a fair chance and make equality a reality.
What is the most important lesson you learned you would tell your younger self or your daughters to achieve higher empowerment in regards to gender equality?
First of all, I need to say it's about being excited about what you are doing. Always stay curious and use your energy for the job. Secondly, jump into the cold water, try new things and see what you like, what not. And most of all: Believe in yourself, in your skills and look for a network, maybe of other females, that is supporting you in your job.