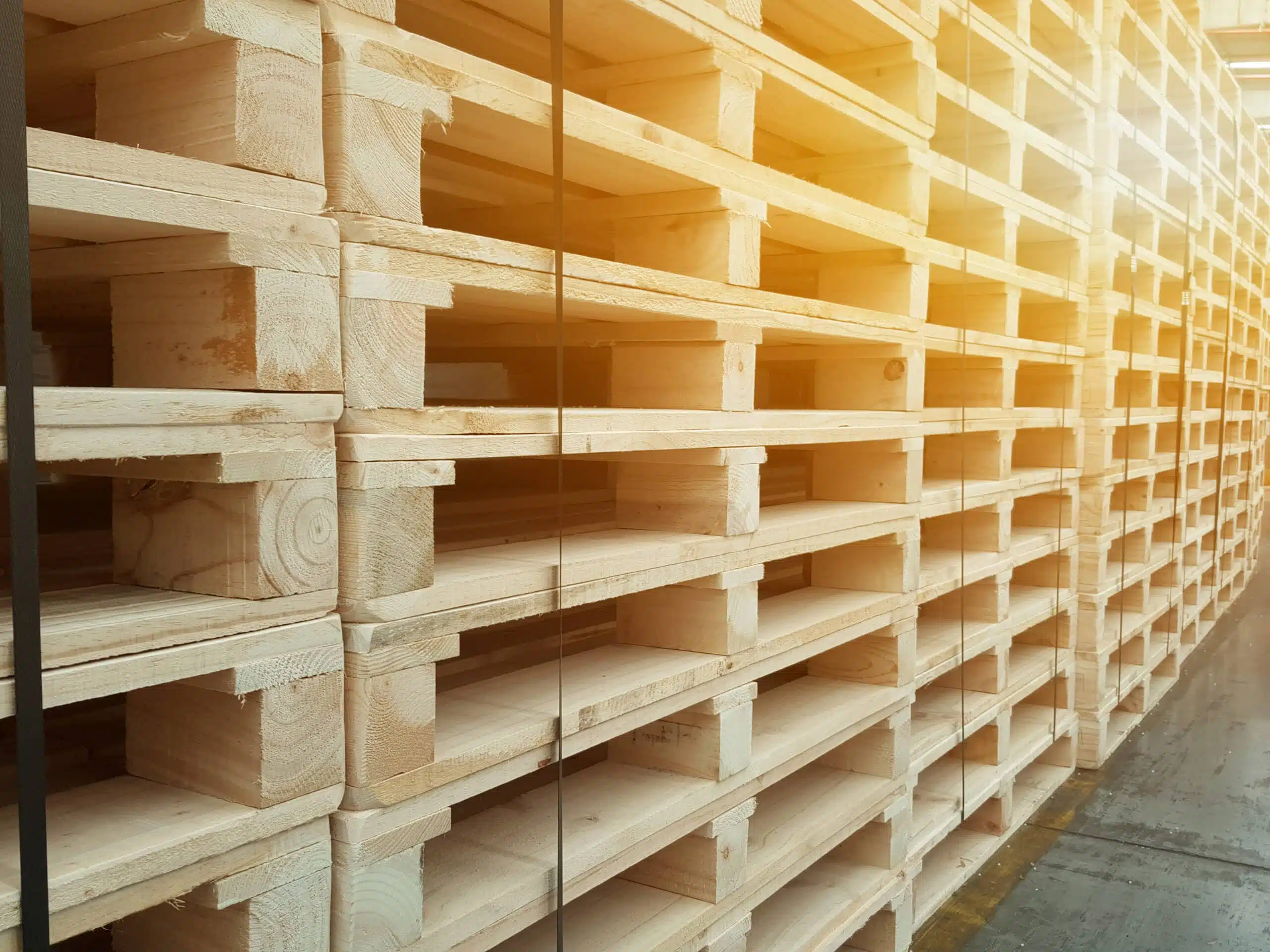 The transport of goods as pallet transport is probably the most frequently performed transport variant in road freight transport. Freight weighing more than 31.5 kilograms must be able to be transported on pallets for health and safety reasons. Whether general cargo, bulky goods, partial loads or full loads – they are all closely related to pallet transport.
What is a Euro pallet?
Of all the types of pallets, Euro pallets are the most commonly used. They have the great advantage that they are made of very sturdy wood, so they can be used again and again. They also have a standardised dimension of 120 x 80 x 15 centimetres. In some cases, disposable pallets can also be used for pallet transport. These are only used once and are made of different materials depending on the goods being transported – these can be plastic, corrugated cardboard or wood. In contrast to Euro pallets, one-way pallets have different dimensions.
6 Tips for pallet transport
1. Choose the right pallet
2. Stack goods on top of each other
3. Leave nothing overhanging
4. Keep the cargo flat
5. Label clearly
6. Secure goods on pallet
How to pack goods correctly on pallets
Anyone who wants to transport freight using pallets can help to ensure that their goods arrive safely at their destination. Shippers should follow these tips:
1. Choose the right pallet
In recent years, many different types and shapes of pallets have become established for diverse goods and purposes. Whether one-way or reusable, 2-way pallets and 4-way pallets, the choice should ensure one thing: The goods must fit completely on the pallet. Small pallets are cheaper than larger ones, but those who save here risk not only damage to the goods, but also that the pallet will not be taken along by the transport company. You should also make sure that the pallet is in good condition. You can't go wrong with EPAL pallets, which have been on the market for 30 years.
2. Stack goods on top of each other
If you want to ship boxes on a pallet, they must be stacked on top of each other like columns. You should also make sure that the weight is evenly distributed on the pallet.
3. Leave nothing overhanging
If objects protrude sideways on pallets, they can easily be damaged. In their own interest, companies should make sure that their goods are flush with the pallet. It could also be that the lorry driver does not accept pallets packed in this way, in order to prevent possible recourse claims against the freight forwarder in advance.
4. Keep the cargo flat
The flatter the pallet is packed, the lower the risk of goods being lost or damaged.
5. Label clearly
As with any type of transport, loading companies must ensure that the load is sufficiently labelled with address labels and, if necessary, handling instructions when shipping on pallets. This also includes: removing possible old labels. To ensure that the label sticks perfectly to the shipment, it is best to place the label on the box and not on plastic.
6. Secure goods on pallet
It is best to secure the goods using film such as strapping or banding. When wrapping the items on the pallet in shrink wrap, make sure that the shrink wrap also encloses the base of the pallet.
Future prospects: The smart pallet
Since 2018, there have been several projects, including from the Frauenhofer Institute, that deal with the intelligent networking of the pallet. Ideally, a pallet would then provide information on origin, load, age and temperature at any time via data transmission. The information would be read out via smartphone. This would make the world's largest object of exchange less subject to theft or manipulation. In our article on the Internet of Things, we discuss the many advantages of networking in logistics.
Many tips and tricks for shipping a pallet can also be found here. If companies plan a pallet shipment and follow the tips described in this article, nothing will stand in the way of the successful and safe transport of palletised goods.