Find Freight Forwarder | Freight forwarding company | FTL | Digital freight forwarder | DHL
What is a freight forwarder and why do you need one
Are you looking for a freight forwarder?
Saloodo! provides its customers with the highest level of quality service. With us, you can transport any pallets only within a few clicks on our digital platform. Moreover, you can register for free, get immediate access to a growing network of verified carriers and choose from multiple offers depending on your preferences.
Saloodo! helps you to keep track of your shipment at any time. You will receive benefits through our live chat service and get in contact with our dedicated customer support team. By using our quality service, you will be able to transport pallets conveniently throughout the Middle East as your contract partner and single point of contact.
What is a freight forwarder?
A freight forwarder (a forward or forwarding agent) is a company that specializes in assisting its customers in moving shipment from one place to another, in the most efficient and simple way possible.
What does a freight forwarder do?
The forwarder has to ensure that the shipment is picked up from the shipper and delivered to the contact person at the right time and place. In addition, the forwarding agent offers the right price and deliveres the goods in the same condition they were picked up.
In essence, the forwarder takes care of the entire transportation process. This includes processing the documents, arranging the transport with carriers on your behalf, being the point of contact for all inquiries and providing customer service support. Besides saving you a lot of time, unforeseen costs and potential headaches, the forwarder provides the service of finding reliable transportation at competitive rates.
With Saloodo! as your digital freight platform, you can: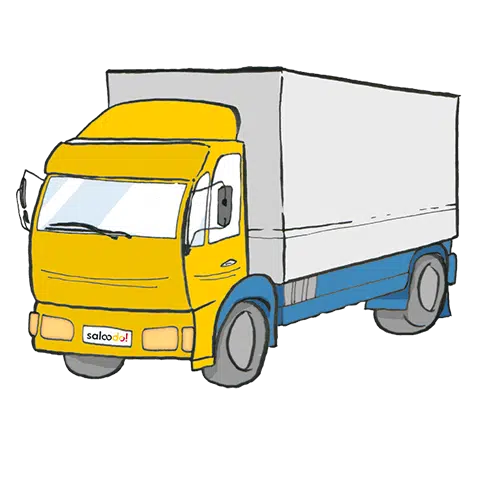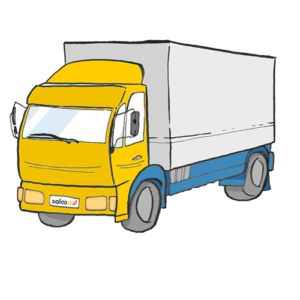 The forwarding agent acts as an intermediary between a shipper and the final point of destination. The role of the agent is to establish longstanding relationships with carriers and negotiate the best possible prices to move customer's goods. By doing so, the company ensures speed, efficiency and reliability during the entire transport process.
Movement of shipments
The forwarding agent does not actually move the goods by itself. Think of the agent as a source of expertise and knowledge, specialized in ensuring that your goods will arrive at the right destination, saving you time and costs. Taking upon yourself the entire work without help will result in additional pressure of getting entire logistics of shipping goods right.
As the forwarder does not move the freight by itself, it cannot be held responsible for shipping delays. This is especially the case when these delays occur because of factors such as traffic jams, route changes, bad weather or breakdowns. In fact, no one can be held responsible for unforeseen incidents and although it can be frustrating, it is important to recognize this is out of your freight forwarder's reach.
How can I choose the right freight forwarding company?
Some freight forwarders provide more services than others, depending on the customer's need and resources. In general, they must be able to provide most of the following:
Be able to provide the best cost and efficient transport solutions depending on the customer's need
Secure storage (a few may outsource)
Be experienced in all modes of transports, unless the customer is looking for the forwarder that specializes in one mode of transport
Negotiate rates of transport to provide the best prices for shipping the customer's goods
Provide access to all relevant documentation or any other written forms associated with shipping and transport
Arrange transportation of the freight from/to the customer's point of pickup and delivery
Have knowledge of cross-border shipping
Act as a single point of contact before, during and after the transport
Offer customer service assistance and support for all enquires whenever asked for by the customer
Apart from the points stated above, there are other added efforts that go into organising the customer's transport
What types of freight forwarders exist?
Global forwarders with existing infrastructure and international facilities, able to handle all functions of freight forwarders (for instance: DHL Global Forwarding). These types of forwarders normally work with international customers and have connections with both global and regional carriers.
National or international 3PL and 4PL freight forwarders who do not have the necessary facilities or their own infrastructure. These types of freight forwarders can carry activities as a global forwarder would but on a sub-contracted basis.
Digital freight forwarders that drive their freight business on technology and data.
Find freight forwarders with Saloodo!


• Describe your shipment
Planning ahead will help you eliminate unforeseen costs. This is why it's important to define your transport requirements at an earlier stage. Details such as pallet dimensions, weight, pick-up & delivery locations, and dates should be known before you post a transport request.
• Choose from 6000+ verified carriers
Saloodo! gives you access to a growing network of carriers verified according to DHL's Code of Conduct. You have the freedom to decide who will transport your shipment based on the offers you receive.
• Track & Trace
After you selected the offer that suits your request, you can start tracking the progress of your shipment. You also have access to live chat support and customer service assistance. This way, you have a full overview of the entire shipping process and you can always follow-up on the transport status.
Your digital logistics experts
We combine the logistics know-how and infrastructure of a global player with the flexibility and digital competence of a start-up. Learn more in our blog, the Logistics dictionary, and our info pages.
Ready for the logistics of the future?